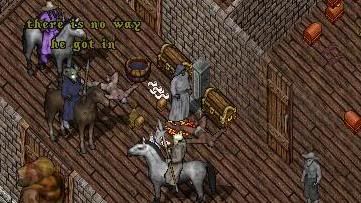 First picture courtesy of Krats.
Second picture courtesy of KelPhurPhun's inattentiveness.
Tales of Adventure
The Stolen Hammer
Death to Orcs
Oricsh Edition
Deacon Edition
Everybody Loves a Clown
Can I Have 730 Gold?
Final Edition (not really)
First Edition
Comeback Special, Part One
Comeback Special, Part Two
A Boy and His Katana
A Man of His Word
Failure on the High Seas
A True Player
Final Day (or not)
Bards of the Second Age
PKS TAK MY GLD
Merry Christmas
Special Message
A Poorly Planned Party
A Pair of Gentlemen
The Big Score
A Disgrace to UO, Part One
A Disgrace to UO, Part Two
A Disgrace to UO, Part Three
Back in Action
UR CHUMBUCKET!
I JSUT STAR HER, Part 1
I JSUT STAR HER, Part 2
Three Short Adventures
Dragon Security Notice
cA Adventures
The Gift
Attack of the Clones, Cheers to Good Health (by Ireland)
Home Security Notice
Operation Red Hemperor
Triple Loot
BIDDING WAR?
The Miracle
Fishing Trip! (by Downs)
Touring a Keep (by Downs)
Boxing Fun (by Downs)
Public Service Announcement
The War on Trammel, Part Three
I'm a Merchant Now (by applejack)
More Castles for cA (by Francois Toulour)
[cA] Deparmtent of Justice Case Files
The Case of the Macro Miner's Missing Mare
The Case of the Thug, Coward and Murderer
Short Editions
Short Edition #1
Short Edition #2
Short Edition #3
Short Edition #4
Short Edition #5
Short Edition #6
Short Edition #7
Short Edition #8
Short Edition #9
Short Edition #10
Short Edition #11
Short Edition #12
Screenshots, RPVs and Videos
Screenshots of Adventure
Videos of Adventure
Hall of Fame #1
Hall of Fame #2
Hall of Fame #3
Hall of Fame #4 and #5
Hall of Fame #6 and #7
The Saga of the Real Hemperor
Please Note: I have been asked by the Real Hemperor to post the following.
My Brave Story
The Dance Contest
Fraud!
The One True Hemperor
The Book of Prophecy
The Vision of the Army of the Surcoats
Miscellaneous Good Times
International Hemperor Day 2009
Dress Like chumbucket Day (DLcD) 2010
The Mongbat Map
Maahes Exposed
To be or to ragequit?
RIP: Maahes, b. 1999 - d. 2010
The Campaign to End INTERNET INJUSTICE!